Kari Lewis
Last week I had the opportunity as part of our MSU Extension Ag Agent update to visit the North Dakota State University Extension research center at Williston, ND. One of the topics covered was palmer amaranth. Palmer amaranth is a type of pigweed that originated in the desert region of the southwestern US and has since spread all across the US with the exception of Montana, Idaho, Washington, and Oregon.
Rich Zollinger, a retired NDSU Extension Weed Scientist said the following about the weed: "Palmer amaranth's prolonged emergence period, rapid growth rate, prolific seed production, and propensity to evolve herbicide resistance quickly makes this the most pernicious, noxious, and serious weed threat that North Dakota farmers have ever faced."
Palmer amaranth is a competitive and aggressive weed that can grow 2 to 3 inches per day in optimum conditions. Palmer amaranth can easily reach 6 to 8 feet tall, has tremendously thick stalks, and produces up to 1 million seeds per plant! It emerges throughout the growing season and is very prone to herbicide resistance. Palmer amaranth has been reported to reduce yields up to 91 percent in corn and 79 percent in soybeans.
In Nebraska where there's issues with herbicide resistant Palmer Amaranth, it's estimated to cost $145/acre to control the weed in soybean fields. Therefore, its absolutely critical to remain diligent in scouting for this weed.
Palmer amaranth resembles redroot pigweed, smooth pigweed, and waterhemp. However, Palmer amaranth has no hair on the plant, the petioles (or leaf stem) are longer than the leaf, the leaves are diamond or oval-shaped, and there's spiny bracts on the female plants.
Palmer amaranth can be spread in multiple ways. It arrived in North Dakota numerous different ways – a custom combine that came up from the south, a combine purchased from Ohio, a railroad car, in millet seed, in sunflower screenings, etc. If using custom cutters for harvesting this summer, it is absolutely critical that they clean out their machinery prior to harvesting between operations.
If while out scouting your fields you suspect palmer amaranth, please bring a sample into your local
MSU Extension
office for identification. There is also some great resources on palmer amaranth available at
www.ag.ndsu.edu/palmeramaranth
.
Thanks to NDSU Extension for the tour and information!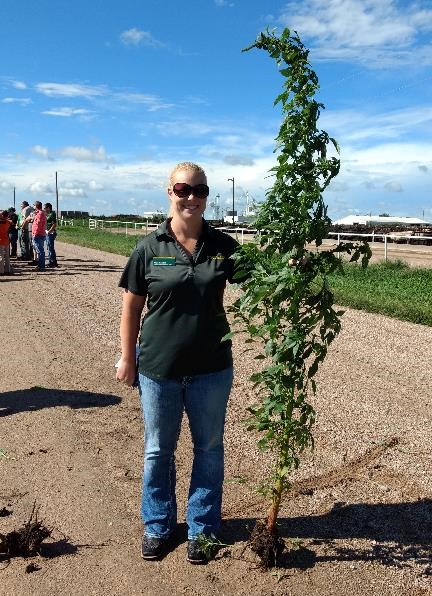 Stutsman County Extension agent Alicia Harstad with a
Palmer Amaranth plant (NDSU Photo)